描述
Description, Features & Benefits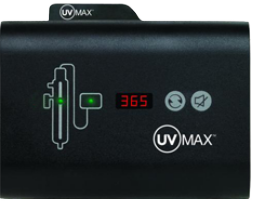 The UVMax IHS22-D4 combines the most popular UV sterilizer in the world, the UVMax D4, with a 2-stage completely pre-assembled high-capacity pre-filtration system with integrated mounting bracket – saves installation time and cost. The IHS22-D4 includes a large 5 micron sediment pre-filter and a specialized carbon block filter which is capable of reducing lead and a wide range of organic contaminants that affect taste and odor.
Viqua UVMax D4 Series UV sterilizers are the cornerstone of Viqua's residential product line and are the best-selling UV sterilizers in the world today. They are designed to treat bacteria (such as e.coli and coliform), viruses, and other microbiological contaminants including giardia (beaver fever) and cryptosporidium without the use of chemicals. They are suitable for the treatment of private wells and surface water supplies, as well as municipal water for those seeking a higher level of confidence in the safety of their water supply. The IHS22-D4 provides a UV dose of no less than 40 mJ/cm2 for flow rates up to 9 gallons per minute making it suitable for virtually all residential applications with up to 3 bathrooms (based on a UVT level of 95% and at the end of lamp life).
The UVMax IHS22-D4 is manufactured by Viqua, the residential and light commercial division of Trojan Technologies, the world leader in UV water disinfection technology. Viqua has the largest installed base of UV sterilizers in the world spanning some 600,000+ systems. Trojan is ISO9001:2008 registered and has more than 800 employees in 8 countries. Like all Viqua systems, the IHS22-D4 is manufactured in Canada and uses UV lamps custom-manufactured in the USA.
Key to the D4's long-standing popularity is its brand reputation, feature-rich controller, and no-tools maintenance. Each major component is represented by an LED status light on the control panel so at a quick glance you can check the status of the system. The D4's high output lamp results in a system with a very compact size relative to its treatment capacity, and its constant current power supply ensures a uniform UV dose even when the source power supply fluctuates.
UV disinfection is safe, effective, economical, and best of all, does not add undesirable chemicals to your water like chlorine or chloramine.
There are a variety of units available in the UVMax D4 series, the base D4, the D4 Premium which offers an enhanced color LCD screen on its controller, the D4 PLUS which includes the LCD screen upgrade as well as a UV intensity monitor, and 2 models which include integrated 2-stage pre-filtration, the IHS12-D4 and IHS22-D4. The IHS12-D4 and IHS22-D4 are identical other than the size of the sediment pre-filter. The IHS12-D4 has a 4.5 x 10 inch sediment pre-filter whereas the IHS22-D4 has a 4.5 x 20 inch high capacity pre-filter. The larger filter provides longer filter life and less frequent filter replacement. There is a D4 configuration suitable for every application! Not sure which option is best for you? Give one of our UV experts a call toll free at 1-866-376-2690! We would be happy to help you.
Not all UV systems are created equal…A good UV sterilizer is far more than a UV lamp in a tube. You rely on your UV sterilizer to protect the quality and safety of your drinking water and the health of your family. You deserve the best insurance that you can buy for your money. Viqua and its parent company, Trojan Technologies, are literally the world leaders in UV technology. Their systems are backed by decades of bio-assay validation and computer-aided flow dynamics testing, and literally millions of dollars in lamp and ballast/power supply research and product development. The result is a product that you can have confidence in to work when you need it.