描述
Description, Features & Benefits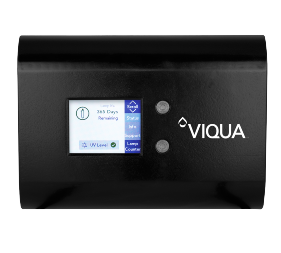 Viqua UVMax D4 Series UV sterilizers are the cornerstone of Viqua's residential product line and are the best-selling UV sterilizers in the world today. The D4 Premium takes the UVMax tradition to a new level by adding a full color LCD display to the most popular UV system ever. The D4 Premium is designed to treat bacteria (such as e.coli and coliform), viruses, and other microbiological contaminants including giardia (beaver fever) and cryptosporidium without the use of chemicals. It is suitable for the treatment of private wells and surface water supplies, as well as municipal water for those seeking a higher level of confidence in the safety of their water supply. The D4 Premium provides a UV dose of no less than 40 mJ/cm2 for flow rates up to 9 gallons per minute making it suitable for virtually all residential applications with up to 3 bathrooms (based on a UVT level of 95% and at the end of lamp life).
The UVMax D4 Premium is manufactured by Viqua, the residential and light commercial division of Trojan Technologies, the world leader in UV water disinfection technology. Viqua has the largest installed base of UV sterilizers in the world spanning some 600,000+ systems. Trojan is ISO9001:2008 registered and has more than 800 employees in 8 countries. Like all Viqua systems, the D4 Premium is manufactured in Canada and uses UV lamps custom-manufactured in the USA.
Key to the D4 Series' long-standing popularity is its brand reputation, feature-rich controller, and no-tools maintenance. The high output lamp results in a system with a very compact size relative to its treatment capacity, and its constant current power supply ensures a uniform UV dose even when the source power supply fluctuates. The new LCD display makes all important system information available at a glance.
UV disinfection is safe, effective, economical, and best of all, does not add undesirable chemicals to your water like chlorine or chloramine.
Why UV? – UV Advantages
UV water treatment offers many advantages for the treatment of microbiological contaminants like bacteria (including coliform and e.coli), viruses, molds, algae, yeast, and oocysts like cryptosporidium and giardia. Every year, these contaminants are responsible for thousands of serious illnesses due to the failure of city treatment plants or consumption of untreated well or surface water.
Unlike other disinfection options, UV sterilizers do not add any chemicals to the water, do not produce harmful by-products (THMs and HAs), and do not alter the taste, pH, mineral content, or other properties of the water. Accordingly, in addition to producing safe drinking water, UV disinfection is not harmful to your plumbing and septic system. Furthermore, it is easy and cost-effective to install and maintain without any special training.
UV sterilizers are one of the most popular and respected water treatment technologies in use today. They can be found in a wide range of water treatment applications ranging from simple under sink water filters to huge city wWith the infrastructure of cities all over North America crumbling under neglect and budget constraints, many customers have asked us if there was a product that they could add to their water system that would provide them with additional insurance and peace-of-mind against the possibility of a failure of their municipal water treatment system. These concerns have arisen due to several high-profile cases of contamination in city water supplies across the continent, some of which have resulted in illness and even death. UV disinfection is a great option to provide this extra level of insurance in your water supply.